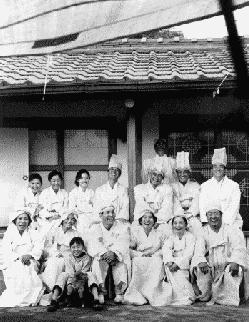 108 min., 35mm, Color

Produktion: Taehung Production, Seoul. Buch: Yuk Sang-Hyo, nach dem Roman von Lee Chung-Joon. Kamera: Park Seung-Bae. Beleuchtung: Kim Kang-Il. Musik: Kim Su-Chul. Schnitt: Park Soon-Duk. Mischung: Kang Dae-Sung. Ton: Yang Hoo-Bo. Ausstattung: Kim Yu-Joon. Requisite: Kim Ho-Kil. Make up: Hong Dong-Eun. Kostüme: Lee Hae-Yoon. Art coordinator: Kwon Soon-Mi. Frisuren: Kang Eun-Ja. Photos: Ku Bon-Chang. Standphotos: Yang Ki-Joo. Produzent: Lee Tae-Won. Produktionsleiter: Jhun Yoong-Hang.

Darsteller: Ahn Sung-Kee (Lee Jun-Sub, Schriftsteller), Oh Jung-Hae (Yong-Soon, Nichte), Han Eun-Jin (Großmutter), Chung Kyung-Soon (Jang Hae-Lim, Reporterin), Park Seung-Tae (Waedongdaek, Schwägerin), Lee Kem-Joo (Choi Jee-Hyun, Ehefrau), Kim Kyung-Hae (Kwangjudaek, Schwester), Nam Jung-Hee (Hampyungdaek, Schwester), Lee Hae-Ryong (Hamypyung Maehyung, Schwager), Ahn Byung-Kyung (Saemal, Verwandter), Kim Kl-Ho (Urok), Lee Yae-Min (Sung), Lee Earl (Won-Il, Neffe), Bang Eun-Mi (Won-Ils Frau), Bae TaeIl (Su-Nam, Neffe), Lim Jin-Taek (Chung-Il, Neffe), Hong Won-Sun (Hyaung-Ja, Nichte), Shin Sung-Il (Hae-Kwang, Neffe), Min Kyung-Jin (Mr. Park, der Verleger), Jang Ki-Yong (Dr. Jang), Park Chung-Sun (O, Dichter), Hong Seung-Ki (Hong, Professor), Ha Duk-Sung (Song, ein Freund), Choi Dong-Joon (Dong-Pal, Jang-Jins Sohn), Kim Jong-Gu (Tae-Hyung, Dorfbewohner), Sohn Chun (Direktor der Highschool), Choo Bong (Vorsitzender des Landwirtschaftsverbandes), Kim Ki-Bum (Gouverneur), Yoon Il-Joo ('Soriman'-Sänger), Baek Jin-A (Eun-Ji, Tochter).

Weltvertrieb: Taehung Pictures,3-1 Hannam-Dong, Yongsan-Gu, Seoul, Korea, Tel. (82-2) 797 5121, Fax: (82-2) 797 5125.


Sun 23.02. 13:45 Kino 7 im Zoo Palast

Sun 23.02. 19:15 Delphi

Mon 24.02. 10:00 Arsenal


Jun-Sub Lee, a famous writer in his early 40's, receives a call that his elderly mother has just passed away. This complicates his already hectic life as he hurriedly cancels all appointments, writes the obituary, and makes preparations for the funeral service.

Soon after his arrival in his hometown, the three-day funeral ceremony

begins. While most of the family is preoccupied in preparing for the funeral, the elderly relatives remain in their seats as if they are

supervising the whole event. The preparations especially remind Jun Sub's sister-in-law, Wedongdaek, of every hardship she had undergone waiting upon her ill mother-in-law. In fact, it appears that the death of the eighty seven year old matriarch, who had suffered from dementia for the last five years of her life, makes few people sad, and some even seem to feel that her passing was fortunate.

The conflicts among family members deepen when Jun-Sub's troublesome niece, Yong-Soon, unexpectedly arrives dressed in a frivolous outfit. Yong-Soon had run away from home thirteen years previously with all the money in the house and had since never bothered to write nor call. Yong-Soon soon runs off again after arguing with her half-sister, Hyung-Ja. Hae-Lim Jang, a magazine reporter who had come by to cover the funeral of the mother of the well-known writer, shows great interest in talking with the much neglected Yong-Soon.

Hae-Lim follows Yong-Soon only to discover the affection Yong-Soon carries for her grandmother and her deep hatred towards her successful uncle for not having cared enough for his infirm mother. The grandmother had been the only one to shelter Yong-Soon during her turbulent childhood with her stepmother and half-sister before the rebellious girl had run away. Yong-Soon and Hae-Lim go to a bar and meet Jun-Sub's friends. Later, the drunken Yong-Soon returns home and severely criticizes Jun-Sub for being the greatest hypocrite, blaming him for the contradiction between the rosy depiction of himself in his books and his selfish real life. Shocked at his niece's outburst, Jun-Sub is left speechless.

On the second day of the funeral, the family members shroud the deceased and dress themselves in somber mourning clothes, but Yong-Soon persists on wearing the extravagant mourning clothes she has brought for herself. Hae-Lim, despite a heavy hangover, is busy covering the funeral while Jun-Sub's friends are enjoying fishing in the nearby ocean. Urok, the presider of the funeral, becomes oversensitive to the remarks of the elderly onlookers.

Many visitors come to pay their last respects to the deceased. The narrow streets are filled with the cars of the governor, reporters, and bankers, as well as Jun-Sub's colleagues, associates, and young fans.

As night approaches, some of the mourners begin to gamble with the condolence money and several even begin fighting with each other.

During all of this upheaval, the ,Soriman', the traditional singer hired to lead the wake, passes out and is sent to the hospital. In the Soriman's absence, Sae-Mal, one of relatives, acts as a substitute and begins the singing which will last throughout the night. As the hours pass by, more and more people become drunk and the gambling gets more intense until Yong-Soon's angry voice is heard.

When the time comes to carry the casket to the grave site, the pallbearers arrive late to make matters worse. In spite of all the mess, Jun-Sub proceeds with the ritual when his publisher shows up with a sample copy of the book which Jun-Sub had hoped to publish while his mother was still alive. While the coffin is finally being carried away, Yong-Soon starts to read the book by chance.

"...Mommy, how come Grandma gets shorter? Don't people get bigger as they grow older?" - "Well, honey. That is because she gives away her age and her height to you. She even gives away her wisdom... And if there is nothing left to give, she then becomes a white butterfly and flies away."

Director's statement

In a sense, the life we enjoy now is the result of how our ancestors have lived. The preceeding generations are bound to leave their legacy to the following generations-parents to their children, teachers to their students, and seniors to their juniors. Even a person who seems to lead an independent life by and of himself is strongly influenced by his ancestors. I see the entire process as tremendously beautiful and sincerely dream to show the viewers of my movie the true sense of this ongoing phenomenon.

A funeral serves as the starting point for this movie. The funeral is for a warm-hearted eighty seven year-old lady who had strived to help those in need throughout her life.

Through the motif of the funeral, the most extensively scaled ceremony in life, I have tried to explore the meaning of death and its effects shadowing the bereaved. I have also tried to bring to light the sentiments of the survivors: their sorrow, egoism, solemnity and even frivolity. I want to give the viewers who see this film a moment to think about what is truly valuable and precious in our quickly changing world. At this moment, I consider this goal my duty as a director.

Im Kwon-Taek

(...) Im Kwon-Taek's masterly film shows a family at risk of tearing itself apart but centres on the traditional aspects of the ceremonies themselves. Like Sopyonje and other Im Kwon-Taek films, this is in part a defiant assertion of aspects of Korean culture which are in danger of being lost. But it's also Im's most experimental film in some time: the entire story is filtred through glimpses of a child's picture-book vision of the death of her grandmother - arresting, stylised sequences whose meaning falls into place only in the closing moments.

Ahn Sung-Gee plays the eldest son of the Lee family, the man who is required to be chief mourner when his elderly mother passes away. He is a successful novelist in Seoul, and relieved rather than grief-stricken that the senile 87-year-old has died. His self-assurance and competence are placed under increasing strain by circumstances (the sudden illness of the singer hired to lead the wake, drunken outbursts from mourners) and by hitherto unvoiced resentments (several relatives, he learns, believe that he presents an idealised image of himself in his own novels). Beyond it all, though, is the timeless beauty of the ceremony, which helps soothe the various tensions and guides the film to a warm and affirmative ending. Tony Rayns, Vancouver Film Festival Catalogue, 1996

Biofilmography

Im Kwon- Taek was born in 1936. He made his first feature film in 1962. He has been known as a director representing Korea, through international film festivals since the 1980's.

Films (selection)

1978: Genealogy. 1980: Tchakk'o. 1981: Mandala (Mandala - The Blind Eyes of the Heart). 1982: Oyumdaen Jasicdul (The Spoilt Ones). 1985: Gilsodom (Gilsodom - A Country Torn Apart). 1986: Ticket. 1987: Sibaji (The Surrogate Mother). 1988: Adada. 1988/89: Aje Aje Bara Aje (The Path of Enlightenment). 1993: Sopyonje. 1994: The Taebaek Mountains. 1996: CHUKJE.