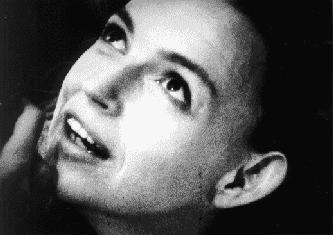 270 min., 16mm, 1:1.37, Color, WP

Produktion: poco films GmbH, Berlin, im Auftrag des ZDF. Buch, Kamera, Ausstattung, Schnitt: Fred Kelemen. Regie-Assistenten: Gisa Schleelein, Mandy Rahn, Gina Fischer, Klaus Bieberthaler. Kamera-Assistenten: Carsten Thiele, Ann-Katrin Schaffner, Jonathan Sanford. Oberbeleuchter: Ki Bun. Beleuchterin: Sofie Linke. Ton: Holger Ahrens, Vasco Pimentel, Amy Öström, Javier Moya. Requisite: Julia Rogge. Schnitt: Klaus Bieberthaler. Musik: Charles Mori. Produktionsleitung: Mandy Rahn. Produktionsassistentin: Gina Kovßcs. Ausführende Produzenten: Fred Kelemen, Björn Koll. Redaktion: Das kleine Fernsehspiel, Annedore von Donop.

Darstelller: Paul Blumberg, Anna Schmidt, Mario Gericke, Harry Baer, Isolde Barth, Adolfo Assor, Thomas Baumann.

Uraufführung: 21.2.1997, Internationales Forum des Jungen Films

Weltvertrieb: Poco Filmproduktion GmbH, Schloßstr. 29, 12163 Berlin. Tel.: (49-30) 793 41 81, Fax: (49-30) 793 38 88.


Fri 21.02. 13:30 Kino 7 im Zoo Palast

Fri 21.02. 21:00 Delphi

Sat 22.02. 20:00 Arsenal

Sun 23.02. 10:00 Akademie der Künste


Time of fire and love, lit against cold and fear.

Time between the years, when everything appears to stand still and when everything has been decorated for sacred celebrations. Time of darkness.

During the Holy Night, seven year old Micha has to escape with his young mother Marianne from the violence of his drunken father.

The most necessary things are packed in a big bag and they secretly leave their basement apartment.

Marianne remembers her childhood in the countryside of former East Germany, where she wants to go, where she hopes to find help, kindness, peace.

The moment she thinks she has reached the end of the journey, she finds herself in a landscape covered with ice. The trees are standing rigid in the frozen movements of water. At the horizon, the top of a sunken church is breaking through the wintery soil. Did the place of her childhood ever exist here? A place now flooded and frozen over. Or is she misled by her memory?

The journey continues. The country seems so endless. Snow-covered fields. Frozen lakes. Hard, dark earth. Icy roads. The few houses are abandoned and destroyed. Having run away from her hellish life in the basement, Marianne finds herself in a void, in the apparent endlessness of a glacial age which she cannot fill by any vision of a new existence. Just Micha, the child, who is able to detect the angel even in Hell, fills the emptiness with the life of his imagination - and even flies.

During their one week odyssey through frozen Germany, they meet people who offer them no place to rest or to stay. Led by ulterior motives, crushed by their own poverty, or dominated by their feeling of being lost, these people just hurt them deeper and become new reasons to escape.

At the provisional end of their journey, in the hotel of an unknown city, Micha and Marianne find their long desired peace which cannot last.

Biofilmography

Fred Kelemen was born in Berlin on January 6th, 1964. He began working as a painter and musician, as an assistant director at various theatres and as a nightworker at different places.

In 1989 he began studying at the German Film & Television Academy, Berlin (dffb). Since then he made a total of 16 films and videos as director and worked as director of photography and cameraman for several film directors. Since 1995 he has been working as a guest lecturer at the Centre of Cinematografical Studies of Catalonia (C.E.C.C.) in Barcelona/Spain.

Films

1989: Frühlingsopfer; Melabu; Unanswered Questions. 1990: O; A Bunda - Der Pelz. 1991: Maligne; No Nation; El Quien; Karawane der Sehnsucht. 1991-93: Kalyi - Zeit der Finsternis. 1993: Blurt in Berlin. 1994: Soledades; Verhängnis (Fate). 1995: Utazas az alfföldön (Reise durch die Ebene/Journey to the Lowland von Béla Tarr (Fred Kelemen: Kamera). 1995-96: Cafe Solo. 1996-97: FROST; Untitled # One.