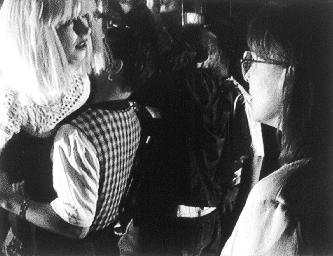 30 min., Video, Color

Schnitt: Liza Johnson. Kamera: Adele Horve, Liza Johnson.

Darsteller: Julie D, Angela Bales, Marilyn Billingsley, Chinchilla, Michelle Hanks.

Uraufführung: 26.2.96, San Francisco.

Weltvertrieb: Liza Johnson, 46 Old Fulton St., Brooklyn N.Y. 11201. Tel.: (1-718) 855 7603. Fax: (1-718) 855 7603.


Sat 22.02. 17:30 Arsenal


The following is a true fact about American feminism: Courtney Love's mother was Katherine Power's therapist. GOOD SISTER/BAD SISTER is about fugitivism. Therapy. Rock and roll. FBI harassment of lesbians. The legacy and memory of radical feminism. Lipstick. Violence. Surrender. Bank-robbing. Generational politics. History.

About the film

Liza Johnson's GOOD SISTER/BAD SISTER is a complex investigation into the personal lives and public personas of two diverse feminist spectacles, Courtney Love and Katherine Power. Through documentary technique, such as talking-head interviews and dramatic re-creations, Johnson connects notorious baby-doll grunge rocker Courtney Love with Katherine Power, a sixties activist and fugitive of the FBI for 23 years. Through the link of Linda Caroll, who is coincidentally both Love's estranged mother and Power's therapist, Johnson creates a multi-layered dialogue between the women that exemplifies and comments on female transgression within the public arena.

When feminism is still the dirty F word of the Nineties, how do women fight American disorder without just being bad girls in a male defined world? (...) "Just because the Sixties was a mind fuck, does it mean that we can never ask Utopian questions again?"

Biofilmography

Liza Johnson was born in Portsmouth (Ohio) on December 13, 1970. She is a videomaker and freelance editor currently living in New York.

Films

1993: Key to the City. 1994: Feeling Faint. 1995: You Will remember When You Need to Know. 1995: GOOD SISTER/ BAD SISTER.
---