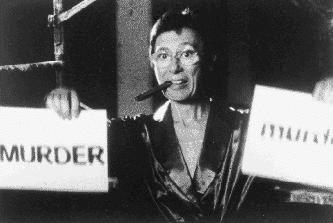 113 min., 16mm, Color

Produktion: MURDER and murder Production. Buch, Produzentin, Schnitt: Yvonne Rainer. Kamera: Stephen Kazmierski. Ausstattung: Cathy Cook. Bauten: Stephen McCabe. Kostüme: Linda Gui. Requisite: Chris de Marais. Musik: Frank London, Aretha Franklin, Etta James, Lotte Lenya, Bob Dylan. Ton : David Powers. Tonschnitt: Leo Trombetta. Line Producer: Stephen Schmidt. 1. Regie-Assistenz: Christine LeGoff. 2. Regie-Assistenz: Melina Jochum. 1. Kamera-Assistenz: Mia Barker. 2. Kamera-Assistenz: Eileen Schrieber.

Darsteller: Joanna Merlin, Kathleen Chalfant, Catherine Kellner, Isa Thomas, Yvonne Rainer, Alice Playten, Kendal Thomas, Rod MacLachlan, Jennie Moreau, Sasha Martin, Barbara Haas, Rainn Wilson.

Uraufführung: 10. September 1996, Toronto Film Festival.

Weltvertrieb: Zeitgeist Films Ltd., 247 Centre St. 2nd fl. New York, NY 10013. Tel.: (1-212) 274 1989. Fax: (1-212) 274 1644.


Sat 15.02. 19:00 Babylon

Thu 20.02. 11:00 Kino 7 im Zoo Palast

Thu 20.02. 17:00 Delphi

Fri 21.02. 22:30 Arsenal

Sat 22.02. 19:30 Akademie der Künste


Doris and Mildred are two white women, one in her mid-50s and the other in her early 60's, who become lovers and decide to set up housekeeping together. Mildred is the younger of the two, a lesbian for most of her adult life, and of upper-middle class origin. She is a tenured professor in the Department of Women's Studies at a large University. Doris, in contrast, never attended college, has never had a steady job or predictable income, and has raised Flo, her grown daughter, single-handedly. Now, trying to be a performance artist, she finds herself in love with a woman for the first time in her life. Mildred shops at Barney's; Doris plunders catalogues and thrift shops. Told mainly from Doris' perspective, MURDER and murder investigates the pleasures, uncertainties and ambiguities of later-life emotional attachment and lesbian identity in a culture that glorifies heterosexual romance. A parallel narrative unfolds via the commentary and presence of three other characters. Director Yvonne Rainer periodically pops up in the film to trouble the narrative with the asymmetries of her mastectomised chest and inquiries into the politics of breast cancer. Her role dovetails that of Doris, who also undergoes a mastectomy. Jenny, Doris' mother and Young Mildred, Mildred's 18-year-old self, are ghosts from the past, invisible to the protagonists but haunting the film's present. MURDER and murder - insofar as it deals with lesbian sexuality, female aging and breast cancer, sets in motion an unholy grouping that reflects popular misconceptions and medical bias about disease; both articulating and critiquing these culturally and scientifically determined notions. Through humour, slapstick, visual metaphor, drama, quotations, commentary and Rainer's characteristic panoply of formal and discursive strategies, notions of pathology are successively invoked and dismantled. Sometimes uncomfortable, always emotionally courageous and intellectually challenging, MURDER and murder is at once soap opera, black comedy, love story and political meditation.

The Purple Rose of Soho

Rainer is the avant-garde's most important woman filmmaker since Maya Deren... more likely, she's the most influential American avant-garde filmmaker of the past dozen years, with an impact as evident in London or Berlin as in New York... That Rainer's work engages that of Godard and Brakhage, arguably the two most powerfully original filmmakers of the past 30 years, is another measure of her centrality. But addicted as she is to the life of her times, it seems perverse to segregate Rainer in an avant-garde ghetto. The relationship of psychodrama to the films of actor-auteurs like Charlie Chaplin or Barbra Streisand is a fallow field for academics. Nevertheless, it's apparent that Rainer has many points of contact with her fellow toiler in the vineyards of urban sophistication, Woody Allen. Jim Hoberman, in: Village Voice, New York, April 8, 1986

(...) It is the first time - after plunging into the production of experimental films in 1972 - that former choreographer Yvonne Rainer has created real characters without compromising either her radical approach nor her sense of humour. The filmmaker appears, fragile and ambiguous, dressed in a tuxedo. At one point she unbuttons her dinnerjacket to show where her breast has been amputated: a wonderful gesture beyond shamelessness or pathos. It shows that Yvonne Rainer even locates a more accessible film on the site of her body, which she has always used as a ,site of scandal' since her early experimental films. The constructive scandal of MURDER and murder is the fact that this body, marked by old age and the threat of death by cancer, dares to love, even love beyond the conventional norms. Bérénice Reynaud, in: Cahiers du cinéma, Nr. 509, Paris 1996

Biofilmography

Yvonne Rainer was born in San Francisco in 1934. She trained as a modern dancer in New York from 1957 and began to choreograph her own work in 1960. She was a founder of the Judson Dance Theatre, which became a vital force in modern dance. In 1968 she began to integrate short films into her live performances and, in 1975, she made a complete transition to film. She completed her first feature-length film, Lives of Performers, in 1972. Six more have followed and they have all been screened widely in the States and elsewhere. Not only has she written extensively, with articles appearing in such publications as ,Camera Obscura', ,Afterimage', ,Wide Angle' and ,Screen', Rainer has frequently lectured and has been teaching at the Independent Study Program of the Whitney Museum in New York since 1974. Rainer was a member of the Board of Directors of the Collective for Living Cinema from 1980 until its demise in 1991. In 1988 she and Bérénice Reynaud organised a two-week event entitled ,Sexism, Colonialism, Misrepresentation' at the Collective for Living Cinema. Rainer's work evinces a post-modern concern with inter-textuality, combining and recombining snippets from many different media and art forms. Her films are dense and multi-layered, combining irony, passion, self-interrogation and intellect.

Films

1972: Lives of Performers. 1974: Film About a Woman Who... (Forum 1975). 1976: Kristina Talking Pictures. 1980: Journeys From Berlin/1971 (Forum 1980). 1985: The Man Who Envied Women. 1990: Privilege (Forum 1991). 1996: MURDER and murder.