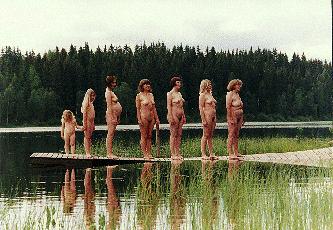 52 min., 35mm, 1:1.85, Color

Buch: Kiti Luostarinen. Kamera: Maiju Leppänen. Schnitt: Anne Lakanen. Ton: Martti Turunen. Musik: Päivi Takala. Kameraassistent: Mika Ailasmäki. Aufnahmeleitung: Jaana Wahlforss. Produzent: Mikael Wahlfors. Co-Produzenten: Sigve Endersen/Motlys. Produktionsleitung: Jaana Wahlforss.

Erzähler: Diana Webster.

Uraufführung: 14.2.1997, Nordic Glory, Jyväskylä, Finnland.

Weltvertrieb: Epidem, Maneesikatv 1-3 J, Fin-00170 Helsinki. Tel.:(358-9)2781935, Fax:(358-9)2781998.


Sat 22.02. 17:30 Arsenal


Gracious Curves is a documentary about the female body; it is a film about the personal and cultural aspects of being a woman.

The documentary has a narrator, the filmmaker's ,voice', which unifies the material into a whole. The narrator will express her point of view very personally, self-critically, self-ironically and with a gentle sense of humour, in other words, she will not be ,objective'. Furthermore, the film is in no way meant to be grave and sober, even though it deals with a most serious subject.

About the film

"When I look at myself and the middle-aged women around me, I realize that we are all terrified of our bodies declining. We have absorbed the idea that when they are middle-aged, women no longer have any value. I'm harbouring an alien inside me."

"I like thinking that my body remembers all the affection and warmth I have received: the hugs of friends, the tender touches of my lovers, my children's light hands on my skin, my mother's soft warm lap." A very personal documentary by Kiti Luostarinen on the nature of the female body. After seeing this film, we shall undoubtedly look at a woman's body with new eyes.

Biofilmography

Kiti Luostarinen was born 1951. She majored in philosophy at Helsinki University and since then has been working as a scriptwriter and director.

Kiti Luostarinen has scripted and directed some ten documentaries and fictional short films. Her previous work Tell me what you saw (1993, 52 Min., documentary) was a film about the memory of a family.
---