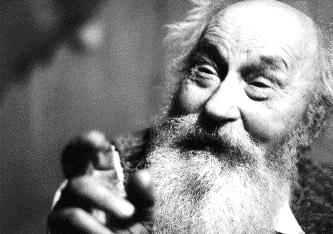 160 min., 35mm, 1:1.66, Color, WP

Produktion: HFF ,Konrad Wolf' Potsdam-Babelsberg. Buch: Stanislaw Mucha. Kamera: Susanne Schüle. Ton: Klaus Barm. Schnitt: Katrin Keller.

Uraufführung: 14.2.1997, Internationales Forum des Jungen Films.

Weltvertrieb: HFF ,Konrad Wolf, Karl-Marx-Str. 33/34, 14482 Potsdam/Babelsberg. Tel.: (49-331) 7469400, Fax: (49-331) 7469202.


Fri 14.02. 19:00 Arsenal


Between World War I and II a prophet named Elija Klimowicz appeared in Grzybowszczyzna, the smallest village in Eastern Poland. The ,Polish Rasputin' built a private church, worked miracles and founded a sect in Wierzalin which soon came into conflict with orthodox clerics.

The sect member took their names directly from the bible. Finally, there were real virgins walking this earth, a real mother of God and a real archangel Michael who is named Michael Miniuk, the oldest bee-keeper in Poland today.

The myth of the prophet Elija, who disappeared in mysterious circumstances in September 1939, is still alive for his disciples as well as his enemies. Some still long for the return of the disappeared miracle worker and redeemer of the world.

The members of his sect, as old as the century now, then about twenty years old, dig into the past in front of the camera. They try to remember the prophet Elija, how they lived with him, how they tried to look at the bible as a script and how they experienced their high points, including the crucifixion of their prophet and the hope of the greatest miracle.

Researching the traces of the prophet Elija is a journey full of miracles, life and mythology. It leads into the present, has no end and sketches a fundamental topic of humanity in the 20th Century: a group of people wanting to organize their lives according to their dreams. Have you heard of Elija Klimowicz from Grzybowszczyzna?

Biofilmography

Stanislaw Mucha was born in Nowy Targ, Poland on May 3rd, 1970. From 1989 to 1993 he studied at the State Theatre School ,Ludwik Solski' in Cracow. After graduation he was hired on a permanent basis in Cracow. In 1994 he suspended his contract and left to study direction at the film and television school ,Konrad Wolf'.

Films

1995: Lekarz Lalek (Der Puppendoktor). 1996: POLNISCHE PASSION. 1997: Bausinn.
---