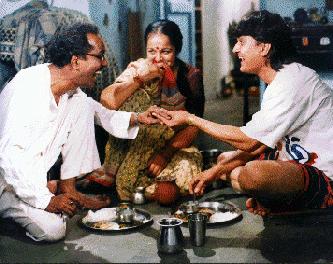 120 min., 35mm, 1:1.37, Color, EP

Produktion: NFDC Doordarshan. Buch, Schnitt: Paresh Kamdar. Kamera: K.K. Mahajan. Musik: Vishal Bhardwaj. Ausstattung: Nitin Desai. Ton: Gopal Sinha.

Darsteller: Sunil Barve, Rajeshwari, Renuka Shahane, Rohini Hattangadi, Veerendra Saxena, Aditi Deshpande, Ninad Kamath, Sadia Siddiqui, Archana Patkar, Purnendu Dutt.

Uraufführung: 26.1.1996, Bombay.

Weltvertrieb: NFDC, Marketing Section, Discovery of India Building, Nehru Centre, Worli, Mumbai, 400 018 Indien. Tel.: (91-22) 495 0678, Fax.: (91-22) 495 1455 / 4950591.


Sat 22.02. 23:30 Delphi

Mon 24.02. 22:15 Akademie der Künste


Tragic-comic plight of a middle-class family living in a dingy tenement in Bombay.

Tannu, the son dwells in a world of action and glamour, romance and sex.

Dwarkadas, the father, desperately tries to make money so that he can start an independent business and buy a small apartment.

Munni, the daughter, resents the constant restrictions and denials of her desires.

Jiya the mother, constantly struggles with her husband's low income and short temper, her son's boastfulness and her daughter's hostility.

About the film

Paresh Kamdar's debut film is about the dream world that exists in the heart and mind of a Bombay tenement dweller. Tunnu lives in a fantasy-world. His father struggles desperately to make a living and to buy a new apartment. Then, there is Tina, the girl of Tunnu's dreams, a symbol of everything that is unattainable in his life.

The film consciously spoofs 'Bollywood-type' cinema and manages to be just as irritating and facile as cinema of that style. Yet there is a subtle realism that runs throughout as the film's counterpoint.

(Aus: Cinemaya, New Delhi Nr. 34/1996)

Biofilmography

Paresh Kamdar graduated from the Film & Television Institute of India (FTII), Poona in 1986. Since his graduation he has been working as an editor. TUNNU KI TINA is his first feature film.
---